Available documentation
Codebots provides a large variety of documentation ranging from reference documentation, readme files, community forums, and these docs right here.
The documentation provided by Codebots comes in many formats and each is designed for a specific purpose. There are two primary locations where this documentation can be found are:
Developer Documentation - Available at codebots.com/docs
Target application - Your application running in your environment
The documentation covers both system and product scopes.
Codebots
Diagrams
While they aren't what you would typically refer to as documentation, as they are actively manipulated to assist in development, the diagrams that are developed on Codebots act as an abstract representation of the software application. They provide a mechanism for understanding the system. They describe the system, not the product, and as such are incredibly valuable for the integration, planning, and development stages of a project.
The original concept of Codebots came from our founder bemoaning the loss of information. While these diagrams may be made in standard project development, and can even be used for initial generation, typically they don't get updated and gradually become obsolete as the project iterates further away from the initial concepts. He felt that if the documents could be maintained and used to update the application as it is iterated on, then you get the best of both worlds.
Entity diagram
The Entity diagram represents the data architecture, similar in form to a class diagram or a database schema diagram. It presents each business object, constraints, relationships, as well as additional meta data associated with each of these as they are found within the application.
Additional information that is documented in this diagram includes, user groups (User Extension Overview) and runtime configurable plugins (Forms extension overview, Workflow extension overview, and Timelines extension overview extensions).
More details on what an extension is can be found in What is an extension?.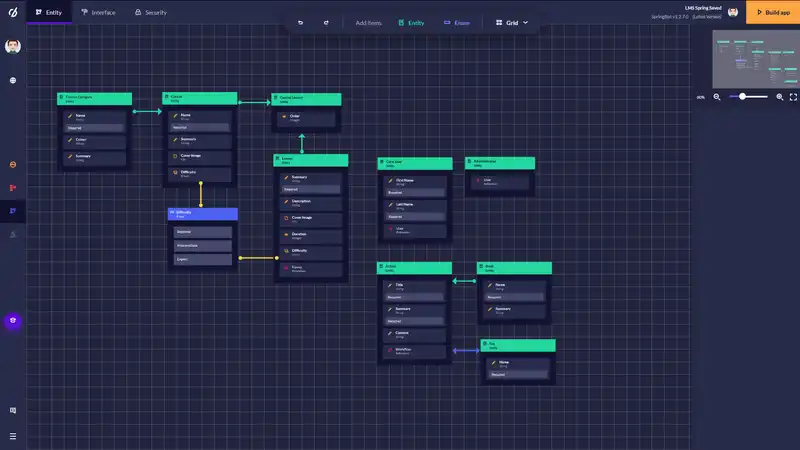 For more details on what the Entity diagram is please see The User Interface Diagram.
Interface diagram
The Interface diagram represents the pages, and their contents, within your application. Additional meta data is also documented here with details around which is home page, descriptions, and titles.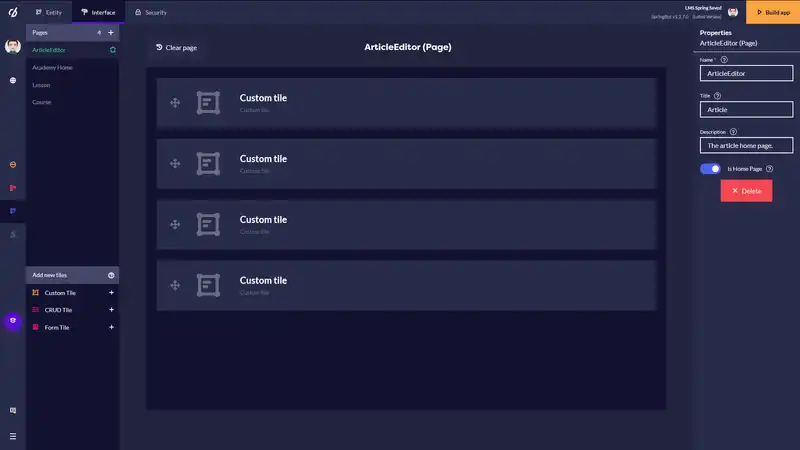 Security diagram
The Security diagram represents the user groups and their level of access to each business object and page within your application. This is an important document within the authorisation and auditing part of the applications AAA security rules.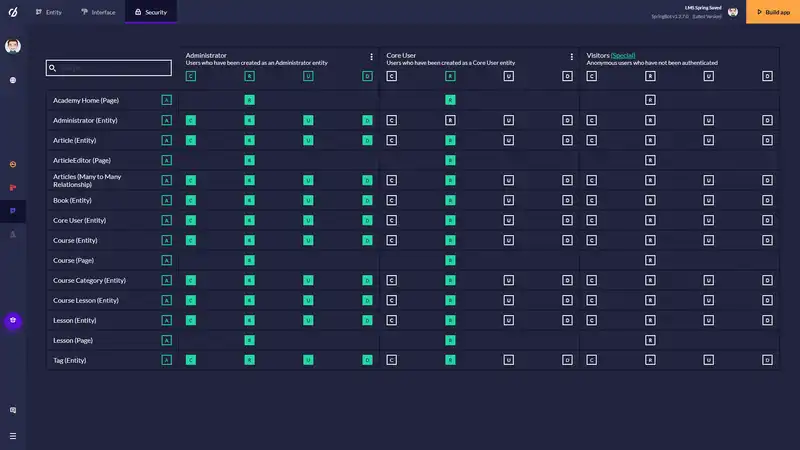 For details on how to use the Security diagram please see Using the Security diagram.
Developer Documentation
This documentation is our publicly available documentation about how to use the Codebots products. It makes uses of tags and product switchers to allow you to curate your experience and focus on the products you use.
Older forms of documentation
We also have the Library and Academy which were originally used to teach users about the products. However, they are being phased out and replaced by these docs, as they are based solely on the Iterate product, and are not publicly accessible for our wider community.
All of the content which was hosted on them has either been copied here directly, or integrated into different articles.
Target application
Once you have built your application and have your app running locally, a new set of documentation will become available. This documentation is more technical in nature and is invaluable for development as it provides insight into the implementation of the application, not just the high level architecture that is provided by the diagrams or the product that is provided by Test and Plan.
Each codebot writes documentation for the APIs as well as the codebase. Pleas see the following two articles for details:
Was this article helpful?