Building a Form
Before you begin…
It is important to note that forms are configured in the instance they run in. If you release your app to beta and production, the forms structure will not be transferred along with it. You would need to re-create the structure on each environment in order to see it.
Create a new instance
After logging in to your target application and going to the admin area, you can access the Forms page by clicking on the Forms option from the left-hand navigation bar.

This will take you to the Forms landing page, where you will find collapsed accordion components; one for each entity in the Entity Diagram which has the Forms extension added to it.

Open up a forms accordion by clicking on the heading, and and then select the New [Form Name] tile.

You will now be able to create a new instance of your form entity. Fill in the required fields and click Submit.

If it is successful, you will be redirected to the Forms Builder page.
Adding slides.
Before you can start adding questions to your new form, you will need to add at least one slide.
Select the + Add a new slide option on the left side of the builder page.

To name a slide, click on the Edit Slide option from the options context menu.

You can then type in a name for you slide, and click on Close to exit out of the editing context menu.
You have now successfully added a named slide to your form.
Adding questions.
There are currently three types of questions which can be added to a form slide: Textbox, Number and Checkbox.
To add a question, click on the Add a new question button. This will bring up a context menu where you can select the type of question you wish to add.

Select the type of question you wish to add.

To define the body of the question, select the Options button on the lower-right side of the newly added question. This will bring up the editing panel on the left side of the forms builder.

Type out a question, and then select close to exit out of the question options context menu.
Finishing up.
You can continue to add slides and questions until you are happy with the your form. You are also able to preview your form at any time by selecting Preview in the top-right corner of the forms builder.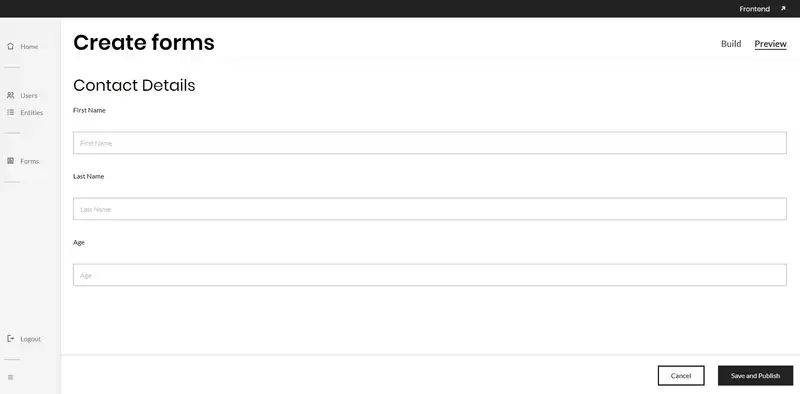 When you are ready to save your form, select Save and Publish.
Was this article helpful?